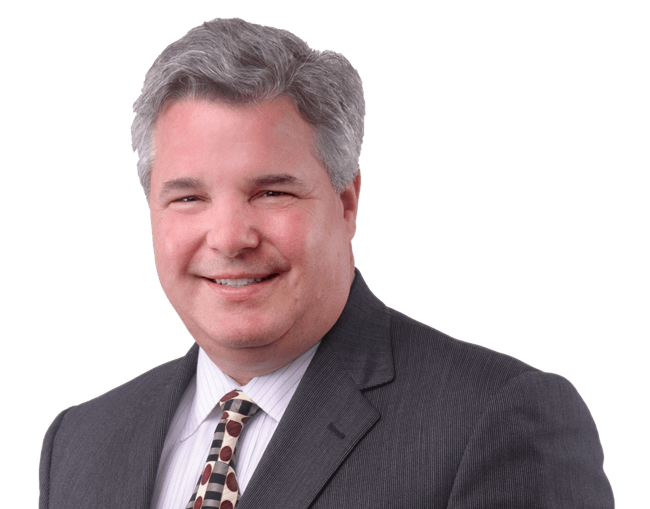 Robert Greising devotes his practice primarily to general corporate and business, corporate finance, technology, education, healthcare and alternative energy areas.
Mr. Greising has participated as lead counsel in many merger and acquisition transactions, represented lenders and borrowers in secured loan transactions, and served as legal advisor in the sale and purchase of numerous publicly and privately-held businesses across a broad spectrum of industries. Mr. Greising has also been the lead on joint ventures and strategic alliances in the financial services industry, technology and software sectors, the healthcare and community mental health sectors, education sector, energy field, distribution and logistics businesses, and on outsourcing projects involving governmental services and information technology. He has advised many start-up businesses, including those utilizing venture capital and those pursuing franchisee opportunities. He has served as the lead attorney in numerous transactions involving operations, such as distribution arrangements, service outsourcing, franchises, commercialization of intellectual property assets, web-based delivery of products and services, licensing of software products and general e-commerce.
Mr. Greising is actively involved in the firm's efforts to serve family-owned and closely-held businesses as well as entrepreneurial and development stage companies. These efforts include corporate governance, shareholder relationships, succession planning and compliance with the Corporate Transparency Act. Mr. Greising also works with larger, diversified companies in various industries including technology, education, energy, manufacturing, health care, and financial services who have operated both domestically and overseas. Mr. Greising has also worked closely with not-for-profit entities on corporate governance and for-profit business initiatives and with ESOP companies in their formation, borrowing transactions and sales/purchases of businesses.
Merger and Acquisition Deals
Lead transaction counsel in sale of fleet management company to private equity funded purchaser
Lead counsel to logistics company and executive in sale to larger scale logistics company
Lead counsel in sale of ownership of engineering service company to management
Lead transaction counsel for sale of multiple location franchise system
Lead transaction counsel for durable medical equipment supplier in purchase of expansion target
Lead transaction counsel for purchaser of closely-held company with seller financing and bank financing in manufacturing sector
Counsel to family-owned business in restructuring through spin-off of operations to subsidiary
Outside counsel to manufacturer in spin-off of affiliates
Local counsel to funding source in going-private transaction
Lead counsel in sale of family-owned lumber business
Lead transaction counsel for lead investor in microbrewery
Lead transaction counsel to company in redemption of outside shareholder through an ESOP
Lead transaction counsel for purchaser of multiple entities in industrial products sector
Lead transaction counsel for purchasers and sellers in multiple transactions involving financial institutions
Lead transaction counsel for purchaser of multiple entities in the education services sector
Lead transaction counsel to ESOP company in spin-off of operations to third party purchaser
Outside counsel to sellers and purchasers of restaurant operations
Represented seller of family-owned auto dealer
Joint Ventures and Strategic Alliances
Lead transaction counsel for interstate affiliation of three community mental health centers (believed to be the first interstate affiliation of community mental health centers)
Lead counsel for strategic alliance between US-based entity and Panamanian counterparts
Lead transaction counsel for merger of community mental health centers
Lead outside counsel to funding source in development funding of software company in the education services sector
Outside counsel to municipal utility in strategic alliance for geographic expansion of service area
Outside counsel to employee benefit service provider in strategic alliance for expansion of product lines
Represented supplier in negotiation and documentation of supply agreement for petroleum product with warrants to customer
Counsel to domestic importer for distribution and supply relationship with foreign supply source and manufacturer
Operational Projects
Lead transaction counsel for negotiation of long-term off-take supply agreement for iron-ore concentrate
Lead counsel for distribution of medical device domestically and internationally
Counsel to user in negotiating and documenting information technology system implementation
Lead outside counsel to supplier in negotiation and documentation of supply agreement for telecommunications product line
Outside counsel in structuring and documenting dealer/supplier agreements
Outside counsel to domestic importer and distributor in sales agency transaction for foreign supplies
Preparation of template license agreement for software licensor of medical diagnostic software
Represented start-up franchisee in fitness industry
Counsel to multiple companies for web-based services and products and preparation of web-site agreements, terms and privacy policies
Outsourcing Projects
Lead team counsel on outsourcing modernization project for the Family & Social Services Administration of the State of Indiana with IBM Corporation
Lead outside counsel to Indiana Public Employees Retirement Fund and Indiana State Teachers Fund for outsourcing of information technology services
Lead counsel to alternative energy supplier in outsourcing of municipal waste-management services
Represented manufacturer in documentation of outsourcing of supply arrangements for Chinese distribution system
Lead outside counsel to exempt organization as service provider to financial institution for outsourcing of student loan product line
Represented service provider in outsourcing of financial services by Canadian financial institution
Capital Formation Projects
Represented start-up life science company in organization and initial capital formation
Lead outside counsel to technology company in leveraged debt transaction
Represented industrial products manufacturer in leveraged debt restructuring
Outside counsel to ESOP-owned industrial parts supplier in leveraged debt transaction
Represented issuer in capital formation for producer of consumer product for housing industry
Represented start-up developer of web-based networking for education sector in entity formation and raising capital
Corporate Governance and Shareholder Relations Projects
Represented minority group in member dispute in LLC in the healthcare sector
Counsel to life science company in structuring governance and ownership for investors
Counsel to investor on structuring investment and governance relations for medical service company
Lead counsel to owners in restructuring of family-owned distribution business
Transaction counsel to surviving member in redemption of member interests in LLC
Counsel to shareholder in dissenting shareholder dispute
Represented minority shareholder in negotiation and documentation of buyout of interests in gaming company
Non-Profit and Exempt Entity Projects
Represented entities in structuring and documentation regarding for-profit subsidiary of not-for-profit community mental health center for commercialization of medical diagnostic software
Represented exempt organization in structuring and funding strategic investments in private for profit entities
Represented exempt organization in formation of domestic entity and application for tax-exempt status for foreign missions through "friends" structure
Represented exempt organization with multiple church involvement in formation and application for tax-exempt status for services to youth
Represented exempt organization in formation and application for tax-exempt status for services to disadvantaged youth
Advised exempt organization Boards and executives on fiduciary duties, private inurement, private benefit and other exempt organization issues
Served as lead transaction counsel for multiple affiliation transaction among exempt health organizations
Served as lead transaction counsel on multiple transactions involving acquisition of exempt and non-exempt target companies and coordination with for-profit participants
Served as lead transaction counsel in transfer of ownership of for profit subsidiary of exempt healthcare organization to management owned purchaser
Education Projects
Lead Indiana counsel for launch of Indiana operations for internet-based non-profit university
Lead outside counsel to licensor in negotiation and documentation of development agreement for commercialization of financial services product in the education industry
Representation of leading student loan guarantor on corporate, governance, acquisition, operational and strategic implementation issues
Lead counsel on structuring regional consortium of community colleges for advocacy purposes
Lead Indiana counsel on structuring of interface between 4-year university and community college
Lead counsel on structuring of subsidiary supporting organization to exempt private university for restructuring of parent debt
Lead counsel on evaluation of risk profile for private university overseas study programs
Served as lead counsel on establishment of exempt foundation to support STEAM fields at the primary and secondary levels
Life Science and Technology Projects
Represented start-up life science company in organization and initial capital formation
Represented early stage life science company in governance structure and capital formation
Represented alternative energy company in negotiating and structuring outsourcing project with municipal organization
Represented early stage company in negotiation and documentation for commercialization of health information database and capital formation
Advised life science companies on capital formation, investor structure and governance issues
Represented bio-technology company in formation, governance structuring, capital formation, grant funding and related activities
Advised life science companies on government funding, grants and tax credits, including those from the American Recovery and Reinvestment Act of 2009 (Stimulus Bill)
Representative Early Stage/Startup Projects
Represented the following companies in organizational, governance, funding and operational matters:
Early stage life science company focusing on gene therapies
Early stage spin-off of electronic medical record division
Startup consumer product company
Startup web-based distribution company
Startup web-based career development and recruiting company
Early stage electronic musical device delivery company
Early stage company providing commercial telecommunications monitoring services
Startup home product company
Startup security monitoring and detection company
Startup company providing mobile laboratory solutions
Startup franchisees
Professional Associations
Former Chair of Business Law Section, Indianapolis Bar Association
Member, Former Board Member, Former President, Association for Corporate Growth, Indiana Chapter
Civic Involvement
Steering Committee Member, Room For All Coalition
Board Member, The Villages of Indiana
Former Chairperson, Fairfield Orphanage and Sponsorship Association
Multiple Lay Leadership Positions, Meridian Street United Methodist Church
Former Board Member, Former Treasurer, St. Richard's School
Awards & Recognitions
Indiana Super Lawyers, 2004-2023
Chambers USA: Leader in the Field of Corporate Mergers & Acquisitions
Best Lawyers In America©, Corporate Law / Mergers & Acquisitions Law, 2007-2024
Best Lawyers In America© 2021; 2024 Antitrust Law "Lawyer of the Year" in Indianapolis
Best Lawyers In America© 2017 Mergers and Acquisitions Law "Lawyer of the Year" in Indianapolis
Seminars & Presentations
Co-Presenter, "Unraveling the Corporate Transparency Act," Krieg DeVault Podcast Series, October 24, 2023
Co-Presenter, "2023 Deal Landscape: Sellers, Financing and Earnouts," Krieg DeVault Podcast Series, July 11, 2023
Co-Presenter, "Anatomy of a Cybersecurity Incident - Key Risk Management Principles," CEO-NET, December 12, 2022
Presenter, "2022 Deal Landscape: Reps & Warranties Insurance," Krieg DeVault Podcast Series, October 21, 2022
Co-Presenter, "Top Tips for Drafting and Negotiating Letters of Intent," Indianapolis Bar Association webinar, August 18, 2022
Presenter, "Top Tips for Drafting and Negotiating Letters of Intent," Indianapolis Bar Association, August 8, 2022
Presenter, "2022 Deal Landscape: Current Mergers & Acquisitions Market Trends," Krieg DeVault Podcast Series, March 31, 2022
PPP Loan Discussion Panelist, Central Indiana Risk Management Association
Loan Forgiveness Under the PPP: Process and Considerations, CEO-Net
COVID-19 Latest: Update on FFCRA & CARES Act for Healthcare Businesses, Indiana State Medical Association
COVID-19 Checklist for Indiana Businesses, Indiana Manufacturers Association
COVID-19 Checklist for Indiana Businesses, Indiana Chamber of Commerce
COVID-19 Town Hall for the Indiana Optometric Association: Key Business and Employment Law Topics, Indiana Optometric Association
Mergers & Acquisitions Master Class; Indianapolis Bar Association
Ethics Hot Seat Issues for In-House Counsel: Update on Current Ethical Issues; ACC Indiana 2017 Annual Meeting
Advanced Business Contracts: Strategically Negotiating Risk: Indemnification, Limitations of Liability, and Insurance; National Business Institute
Technology Contracts - Negotiation Issues, Traps and Tools, Non-profit Healthcare Workshop
Basic Business Practice, Indianapolis Bar Association
Joint Ventures: Structuring Joint Ventures - Choices and Considerations; National Business Institute
Joint Ventures, Lorman
Year 2000 Risk Management, Various
E-Solutions Now, Krieg DeVault
Basic Contract Drafting, ICLEF
Fundamentals of Acquisition Transactions, Lorman
Overview of Acquisition Process for the Private Company, ACC Indiana Presentation
Corporate Governance: Minding Behavioral Fences, ACC Indiana Presentation
Stimulus Bill Overview, Bloomington Economic Development Corporation Presentation
Lessons from Today's Headlines: Duties and Responsibilities Among Stakeholders, ACC Indiana Presentation
Publications
Certifications
Legal Lean Sigma® White Belt
Education
J.D., Washington University School of Law, St. Louis, Missouri, 1979
M.B.A., Washington University, St. Louis, Missouri, 1979
B.A., DePauw University, Greencastle, Indiana, 1975
Bar & Court Admissions
Indiana (1979)
U.S. District Court for the Northern District of Indiana (1979)
U.S. District Court for the Southern District of Indiana (1979)