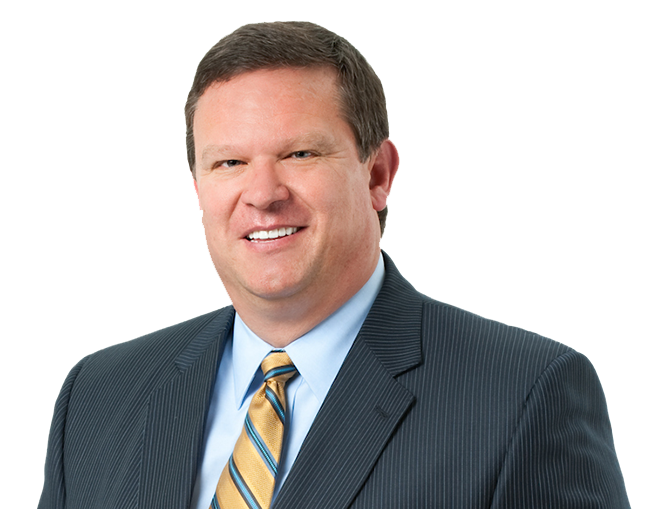 Frank A. Hoffman serves as Of Counsel for Economic Development & Public Welfare Investment for the firm's Public Finance, Financial Institutions, Real Estate, Health Care, and Business practice areas. Frank has over 40 years of traditional and innovative finance, general tax and securities law experience. Most of the development and business expansion financing transactions that Frank closes qualify as public welfare investments and combine federal, state and local tax and grant incentives. His clients include all types of nonprofits and for-profit developers and businesses.

Frank's prior professional experiences include serving as:
president and CEO of Strategus, LLC, an innovative finance and incentive consulting firm owned by Ice Miller LLP (2016 - 2023);
an equity partner with the law firm of Ice Miller LLP for 7 years (2016-2023);
an equity partner with the law firm of Krieg DeVault LLP for over 25 years (1991-2016);
executive vice president and in-house counsel for Landmark Corporation, a real estate private placement securities firm (1985 – 1991); and
a tax advisor with PriceWaterhouseCoopers (f/k/a Coopers & Lybrand) (1981-1985).

Frank is also currently a managing director for CRSUPPORT, a nonprofit public welfare support organization. CRSUPPORT manages Community Reinvestment Institution, Inc. and The OPP Fund, both nonprofit economic & community development organizations dedicated to supporting public welfare investments in Indiana.
Representative Experience
Structured and closed with the CRSUPPORT team over $400 Million of Indiana investment tax credit projects
Structured and closed with the CRSUPPORT team nationwide over $1 Billion of complex economic development incentive transactions
Has developed with the CRSUPPORT team the initial federal New Market Tax Credit financing programs for the Local Initiative Support Corporation (nationwide), The Opp Fund (Indiana Statewide), Indiana Bankers Association (Indiana Statewide), French Lick Redevelopment Commission (Indiana Multi-County), Indianapolis Redevelopment Commission (Citywide), and Ft. Wayne Redevelopment Commission (Citywide)
Structured and closed over $500 Million In Federal New Market Tax Credit financing transactions in Indiana, including funding for Cook Group, Winterfield, Hoosier Gaskets, Procure Venture Capital Cancer Treatment Center, Café Valley Commercial Baker, United Health Commercial Laundry, Hello Nature MPS Biosimulant Fertilizer Plant JV, Volumod, Hello Nature (f/k/a Italpollina) Biosimulant Fertilizer Plant, Big Splash Water Park & Resort, French Lick Springs Resort & Convention Center, Central Indiana Goodwill, Warsaw Parkview Hospital, Warsaw YMCA, Avondale Meadows Community Center, Marshall County Life Center, The Phoenix Theatre, Madam Walker Theatre, Indiana University, Ivy Tech Foundation, Ivy Tech Community College and Brown Mackie Community College and Mixed-use Projects in Paoli, French Lick, South Bend & Ft. Wayne
Structured and closed two of the Top 100 New Markets Tax Credit financing transactions (Marion – Winterfield Paper Plate Manufacturer & Indianapolis – Hoosier Gasket Manufacturer) selected by the National New Market Tax Credit Coalition from over $30,000,000,000 in transactions closed during the first 10 years (2002-2012) of the federal New Markets financing program
NMTC financing transactions closed outside Indiana include transactions in Virginia ($65M), Louisiana ($112M) and Kentucky ($42M)
Combined Indiana CRED Credit, Local TIF Bond and NMTC to fund $5.5 million start-up manufacturing plant (Marion, Indiana) in 2005
Combined local TIF Bond and NMTC to fund $20 million hotel/indoor waterpark facility (French Lick, Indiana) in 2007
Created the New Markets Tax Credit program for the Indiana Bankers Association and its 180 member banks - 2004, $50 million allocation
Obtained over $28 million in ARRA economic development incentives and $53 million in permanent financing for Indiana start-up wind turbine component part manufacturers since February 2009
Closed over $500M in Low-Income Housing and Historic Tax Credit transactions
Obtained 100% property tax exemption for Section 42 for-profit partnership
Structured the first and only Indiana Low-Income Housing Tax Credit equity transaction for Section 42 partnership funded with of Hope VI funds
Converted for-profit affordable housing management company to a non-profit in Indiana
Obtained court-ordered discharge of $2+ million in property taxes for affordable housing property in bankruptcy
Low-Income Housing Tax Credit/Historic Tax Credit experience - in-house general counsel/executive vice president for real estate private placement securities firm (Landmark Corporation) (1985-1991)
Low-Income Housing Tax Credit Investor's limited partner counsel - Great Lakes Capital (f/k/a: Indiana Capital Fund for Housing) (Syndicator), National City Community Development Association, Key Community Development Corporation, Terre Haute First National Bank, and Indiana National Bank (1991-2022)
Low-income housing tax credit lender's counsel – Chase (f/ka/Bank One Indiana, N.A.), Fifth Third Bank - Indiana, Star Financial (1991-2022)
Low Income Housing Tax Credit general partner's counsel - Pedcor Investments and the Indiana Equity Fund, Inc., an affiliate of the Indiana Housing and Community Development Authority (1991-2022)
Non-profit advisor - Chairman/Vice Chairman, Indianapolis Housing Agency (1996-1999)
Tax advisor - PriceWaterhouseCoopers (f/k/a Coopers & Lybrand) (1981-1985); Oxford Development Corporation, Anacomp R&D Partnerships (1981-1985)
Awards & Recognitions
Indiana Super Lawyers, 2009-2018
The Best Lawyers® in America, Banking and Finance Law; Economic Development Law and Tax Law, 2022-2024
Martindale-Hubbell® AV Preeminent Attorney
Professional Associations
Managing Director, The OPP Fund (2019-present)
Managing Director, CRSPPORT (2023-present)
Managing Director, Community Reinvestment Institute, Inc. (2023-present)
Fellow, The American Bar Foundation (2014-present)
Member, National Federation of Independent Business - Leadership Council (1995-present)
Director, CBAI Community Development, Inc. (2003- 2008)
Director, Affordable Housing Partners, Inc. (1999-2010)
Chairman/Vice Chairman, Indianapolis Housing Agency (1996-1999)
Past President, Indianapolis Mental Health Association (1990-1993)
Past Board Member, Indianapolis Mental Health Association (1980-1995)
Seminars & Presentations
Presenter at over 1,000 New Markets Tax Credit presentations in Indiana (2002-present)
Presenter at over 1,000 other economic development incentive seminars in Indiana (1983-present)
Presenter at over 1,000 affordable and workforce housing presentations in Indiana (1983- present)
Presenter, "Using New Markets Tax Credits to Generate Quality Jobs," 2023 Indiana Chamber Business Tax Conference, June 15, 2023
Presenter, "Combining Indiana State Tax Credits, Tax-Increment Financing and New Market Tax Credits," 2023 Indiana Chamber Business Tax Conference, June 15, 2023
Presenter, ICLEF Real Estate Master Series (6 years)
Presenter, "The Opportunity Zone Program: Selecting Your Opportunity Zones (Indiana)," Webinar, March 14, 2018
Presenter, "The Opportunity Zone Program: Selecting Your Opportunity Zones (Indiana)," Webinar, March 8, 2018
Presenter, "Engineering, Economy and Beyond - How to Bring Your Interest in Sustainability to Your Job," Lugar Collegiate Energy Summit, Panelist, Indianapolis, IN, 2011
Presenter, "Policy! Policy! Policy!" Indiana Solar Energy Working Group - ISEWG, April 15, 2011
Presenter, "Energy Issues in the New Congress," Port-To-Plains Energy Summit - Broomfield, CO, 2011
Presenter, "Why Federal Tax and Grant Incentives Are Critical to Wind Energy Expansion in the United States," WindPower Manufacturing & Supply Chain Summit USA - Chicago, 2010
Presenter, "Challenges and Opportunities in Wind Power in Indiana," WIndiana, 2010
Presenter, "Bio-energy Policy: What about Biomass Thermal Heating," Lugar Center for Renewable Energy Forum Discussion, 2010
Education
J.D. in Taxation, Indiana University Robert H. McKinney School of Law, Indianapolis, Indiana, 1982
B.A., DePauw University, Greencastle, Indiana, 1979

Andrean Catholic High School, Merrillville, Indiana, 1975
Bar & Court Admissions
Insights

July 31, 2023