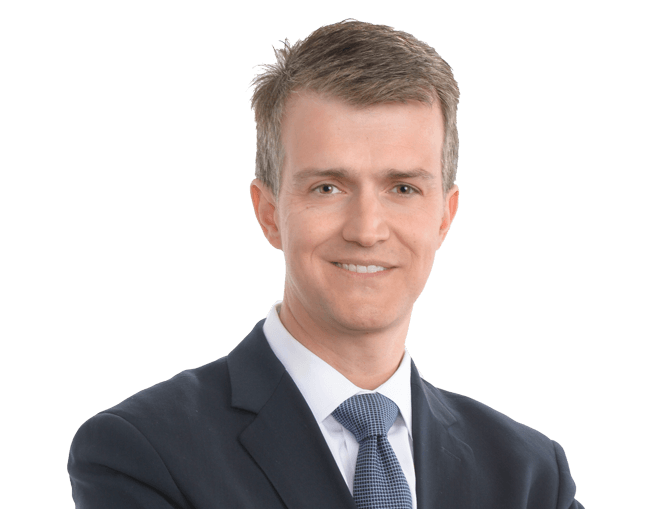 Thomas Hutchinson chairs the firm's Health Care Practice and serves as the firm's hiring partner as Chair of the Talent Acquisition Committee.
Mr. Hutchinson regularly works with for-profit and non-profit health care providers across the country, including startups, ambulatory surgery centers, physician practice groups, hospitals and health systems, and post-acute providers and senior living facilities. He has extensive experience with orthopedic and urology practices. His experience includes assisting clients with clinical integration strategies, helping health systems acquire physician practices, and developing new health care delivery models. He also has significant experience with hospital-physician joint ventures, clinical co-management arrangements, professional services arrangements, and Stark Act and Anti-Kickback Statute compliance.
Mr. Hutchinson is active in numerous professional organizations, including as a member and Vice President of the American Bar Association's Physicians Interest Group, as a member of the American Health Lawyers Association, and as a member and past Chair of the Health Law Sections of both the Indiana State Bar Association and the Indianapolis Bar Association.
Physician Representation
Served as outside general counsel to a large orthopedic practice and orthopedic specialty hospital
Structured co-managed service line arrangement between a physician group and a hospital system
Negotiated an exclusive on-call and medical director agreement with multi-campus hospital system
Represented physicians in the sale of physician-owned imaging center to a local hospital
Represented sellers in connection with private equity backed management company acquisitions, including use of "friendly PC" model
Represented physician group in the development of medical office complex
Represented numerous physician practices in sales to hospital systems
Hospital Representation
Assisted hospital in acquisition of multiple physician practices and related ancillary facilities
Assisted in conversion of hospital wing to freestanding licensed orthopaedic hospital and syndicated it to physicians
Restructured "under arrangements" relationship between a hospital system and a surgery center, sleep lab, endoscopy center, and other physician-owned joint ventures
Advised a health systems on a variety of physician alignment models
Represented one of the nation's largest health systems on the syndication of an orthopedic hospital joint venture
Assisted hospitals and healthcare systems in maintaining their tax-exempt status and fighting state and local efforts to eliminate their tax exemptions
Other Representation
Advised a startup on corporate and regulatory issues for development of an on-site employee health center
Represented a surgery center in acquisition of additional licensed location
Represented a surgery center in a joint venture with a national for-profit ambulatory surgery center management company
Assisted Continuing Care Retirement Community in establishing new university-affiliated campus
Negotiated transactions and assisted with Medicare, Medicaid, and state licensing filings in connection with change of ownership of multiple nursing homes and assisted living facilities for UPL-IGT program
Represented trade association on general governance and member relations matters
Seminars & Presentations
Private Equity Investments in Health Care: Recent Trends, Regulatory Considerations, and Implications for the Market presented at the Physicians Legal Issues Conference, June 7-9, 2018
Hot Topics in Hospital Employment, Practice Acquisitions, and Alignment Strategies presented at the Future of Practice Management Symposium, May 21, 2016
Indiana Rural Health Association Briefing, July 2015
Medicare Physician Fee Schedule - Notice of Proposed Rulemaking 2015, Indiana Radiology Business Management Association, Inc., August 2014
Health Care Reform Overview, ICLEF Health Care Reform Seminar, May 2014
The Sunshine Act, October 2013
Employment Contracts: Tips and Pitfalls, September 2013
Health Care Reform: The ACA, New HIPAA Rules, and More, ICLEF on Demand, May 2013
Health Care Reform Overview, ICLEF Health Care Reform Seminar, March 2013
2011 Fraud and Abuse Update, HFMA Webinar, November 2011
Physician Practice Issues, Indianapolis Bar Association, October 2011
What Hospitals Need To Know Before Purchasing a Physician's Practice, Indiana HFMA, February 2011
Health Care Reform: Now That We Have It, What Do We Have?, Indiana Hospital Association, October 2010
Emerging Issues in Physician-Hospital Collaboration Strategies, Indiana State Bar Association Annual Meeting, October 2010
Specialty Physician-Hospital Affiliation: National Trends and Options, Indiana/Illinois Orthopaedics Roundtable, August 2010
Publications
Co-Author, "Is Your Non-Compete Buy-Out Reasonable?" Krieg DeVault Health Care Newsletter, January 2021
Co-Author, "Recruiting Success Tips for Progressive Practices," Krieg DeVault Health Care Newsletter, September 2020
Co-Author, "The CARES Act: Provisions Relevant to Health Care Providers & Access to Health Care Services," Krieg DeVault Health Care Newsletter, March 2020
Co-Author, "Responding to Online Patient Reviews," Indiana Optometry News (June 2019)
Co-Author, "Practical Legal Tips for Physician Employment Agreements," Indianapolis Medical Society Bulletin, Volume CXXVI, Issue 6 (June, 2019)
Co-Author, "CMS Unveils New Value-Based Payment Options for Primary Care Practices", Krieg DeVault Health Care Newsletter (May 2019)
Co-Author, "Responding to Online Patient Reviews: legal and Practical Considerations for Physicians", Krieg DeVault Health Care Newsletter (January 2019)
Co-Author, "OIG Adivsory Opinion No. 18-08: Fire Departments' Mutual Aid Agreements, Krieg DeVault Health Care Newsletter (September 2018)
Co-Author, "FSSA Extends and Updates Indiana's Hospital Assessment Fee Program", Krieg DeVault Health Care Newsletter (June 2018)
Co-Author, "Recent OIG Opinion Permits Free Samples to Patients", Krieg DeVault Health Care Newsletter (June 2018)
Co-Author, "ISDH Issues Proposed Rule Amending the Newborn Screening Program", Krieg DeVault Health Care Newsletter (May 2018)
Co-Author, "Indiana Medicaid Finalizes Rule Changes Affecting Medicaid Home Health Providers", Krieg DeVault Health Care Newsletter (May 2018)
Co-Author, "Bipartisan Budget Act Includes Important Changes to Fraud and Abuse Penalties", Krieg DeVault Health Care Newsletter (May 2018)
Co-Author, "CMS Reminds Providers to Report Changes in Ownership", Krieg DeVault Health Care Newsletter (March 2018)
Co-Author, "OIG Settles Cases Involving Allegations of EMTALA Violations", Krieg DeVault Health Care Newsletter (February 2018)
Co-Author, "Professional Licensing Changes Benefit Indiana Professional Corporation", Krieg DeVault Health Care Newsletter (January 2018)
Co-Author, "Highlights from the 2018 Physician Fee Schedule Final Rule", Krieg DeVault Health Care Newsletter (November 2017)
Co-Author, "Important Non-340B Changes Finalized in 2018 CMS OPPS Final Rule", Krieg DeVault Health Care Newsletter (November 2017)
Co-Author, "Joint Commission Updates Medication Management Element of Performance", Krieg DeVault Health Care Newsletter (October 2017)
Co-Author, "CMS Site Visit Verification Process Completed by Hired Hand", Krieg DeVault Health Care Newsletter (September 2017)
Co-Author, "As EHR Incentive Program Sunsets, OIG Identifies Overpayments to Eligible Professionals", Krieg DeVault Health Care Newsletter (July 2017)
Co-Author, "EMTALA Turns 30; CMS Enforcement and New Rules Require Hospitals' (and Physicians') Attention", Krieg DeVault Health Care Newsletter (July 2017)
Co-Author, "If A CMS Surveyor Knocks, Will You Be There To Answer?", Krieg DeVault Health Care Newsletter (April 2017)
Co-Author, "Payment Matters: To Collect or Not to Collect?", Krieg DeVault Health Care Newsletter (April 2017)
Co-Author, "Beginning June 1, CMS Requires Providers to Complete SRDP Using Forms", Krieg DeVault Health Care Newsletter (April 2017)
Co-Author, "President's Proposed Budget Makes Deep Cuts, But Seeks Increases To Medicare Fraud Fight", Krieg DeVault Health Care Newsletter (April 2017)
Co-Author, "CMS "Mid-Build" Exception Deadline and Provider-Based Growth Strategies", Krieg DeVault Health Care Newsletter (February 2017)
Professional Associations
Indiana State Bar Association – Past Chair of Health Law Section
Indianapolis Bar Association – Past Chair of Health Law Section
Indianapolis-Marion County Public Library Foundation – Past Board Chair
American Bar Association – Member and as a Vice President of Physicians Interest Group
American Health Lawyers Association – Member
Awards & Recognitions
Indiana Super Lawyers, 2012-2021
Indiana Super Lawyers Rising Stars, 2009-2010
Education
J.D., Indiana University Robert H. McKinney School of Law, Indianapolis, Indiana, 1996
B.A., DePauw University, Greencastle, Indiana, 1993
Bar & Court Admissions
Indiana (1996)
Illinois (2014)